proche... Pont l'Abbé... Audierne... Pointe du Raz... Quimper... Douarnenez
Finistère Sud, sur la bais d'Audierne
+33 2 98 51 26 59
+33 7 88 25 19 33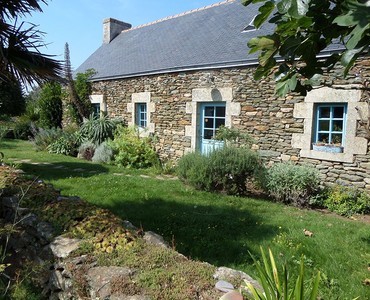 Gite Bleu: the cottage «La Gite Bleu»; full of colors and light, sea view, world of wild beauty, car free place, large landscaped garden, overlooking the valley that leads to a stream, then to the sea across woods and heathlands.

House 150 m2

4 bedrooms, 9/10 persons
Ground floor: a kitchen open to the living room (60 m2) with a wood stove - 1 bedroom with a bed 160x200 - Bathroom - WC.
First floor: 2 accesses: to the right - 2 bedrooms with a bed 160/190 - Bathroom - WC;

to the left: 1 bedroom with 1 bunk bed 90/200 with a trundle bed and a bed 90/200.

Conveniences: Fridge - Washing machine - Dryer - Dishwasher - Gas hob - Electric oven - TV - Stereo system - Central heating.
Children: baby bed, high chair, potty et baby bath.
Price Week

| Season | Dates | Rate |
| --- | --- | --- |
| Low | 14.11.17-30.03 | 650€ |
| | 29.09-28.12 | |
| Middle | 31.03-29.06 | 820 € |
| | 1-28.09 | |
| High | 30.06-31.08 | 1200 € |
Rate Nightly, mid-September-late May, bed linen and cleaning are included
| N nights | Rate |
| --- | --- |
| 1 night | 360 € |
| 2 nights | 460 € |
| 3 nights | 520 € |
december 2023
mon
tue
wed
thr
fri
sat
sun
&nbsp
&nbsp
&nbsp
&nbsp
1
2
3
4
5
6
7
8
9
10
11
12
13
14
15
16
17
18
19
20
21
22
23
24
25
26
27
28
29
30
31
&nbsp
&nbsp
&nbsp
&nbsp
&nbsp
&nbsp
&nbsp
january 2024
mon
tue
wed
thr
fri
sat
sun
1
2
3
4
5
6
7
8
9
10
11
12
13
14
15
16
17
18
19
20
21
22
23
24
25
26
27
28
29
30
31
&nbsp
&nbsp
&nbsp
&nbsp
&nbsp
&nbsp
&nbsp
&nbsp
&nbsp
&nbsp
&nbsp
february 2024
mon
tue
wed
thr
fri
sat
sun
&nbsp
&nbsp
&nbsp
1
2
3
4
5
6
7
8
9
10
11
12
13
14
15
16
17
18
19
20
21
22
23
24
25
26
27
28
29
&nbsp
&nbsp
&nbsp
&nbsp
&nbsp
&nbsp
&nbsp
&nbsp
&nbsp
&nbsp
march 2024
mon
tue
wed
thr
fri
sat
sun
&nbsp
&nbsp
&nbsp
&nbsp
1
2
3
4
5
6
7
8
9
10
11
12
13
14
15
16
17
18
19
20
21
22
23
24
25
26
27
28
29
30
31
&nbsp
&nbsp
&nbsp
&nbsp
&nbsp
&nbsp
&nbsp
april 2024
mon
tue
wed
thr
fri
sat
sun
1
2
3
4
5
6
7
8
9
10
11
12
13
14
15
16
17
18
19
20
21
22
23
24
25
26
27
28
29
30
&nbsp
&nbsp
&nbsp
&nbsp
&nbsp
&nbsp
&nbsp
&nbsp
&nbsp
&nbsp
&nbsp
&nbsp
may 2024
mon
tue
wed
thr
fri
sat
sun
&nbsp
&nbsp
1
2
3
4
5
6
7
8
9
10
11
12
13
14
15
16
17
18
19
20
21
22
23
24
25
26
27
28
29
30
31
&nbsp
&nbsp
&nbsp
&nbsp
&nbsp
&nbsp
&nbsp
&nbsp
&nbsp
june 2024
mon
tue
wed
thr
fri
sat
sun
&nbsp
&nbsp
&nbsp
&nbsp
&nbsp
1
2
3
4
5
6
7
8
9
10
11
12
13
14
15
16
17
18
19
20
21
22
23
24
25
26
27
28
29
30
&nbsp
&nbsp
&nbsp
&nbsp
&nbsp
&nbsp
&nbsp
jule 2024
mon
tue
wed
thr
fri
sat
sun
1
2
3
4
5
6
7
8
9
10
11
12
13
14
15
16
17
18
19
20
21
22
23
24
25
26
27
28
29
30
31
&nbsp
&nbsp
&nbsp
&nbsp
&nbsp
&nbsp
&nbsp
&nbsp
&nbsp
&nbsp
&nbsp
august 2024
mon
tue
wed
thr
fri
sat
sun
&nbsp
&nbsp
&nbsp
1
2
3
4
5
6
7
8
9
10
11
12
13
14
15
16
17
18
19
20
21
22
23
24
25
26
27
28
29
30
31
&nbsp
&nbsp
&nbsp
&nbsp
&nbsp
&nbsp
&nbsp
&nbsp
september 2024
mon
tue
wed
thr
fri
sat
sun
&nbsp
&nbsp
&nbsp
&nbsp
&nbsp
&nbsp
1
2
3
4
5
6
7
8
9
10
11
12
13
14
15
16
17
18
19
20
21
22
23
24
25
26
27
28
29
30
&nbsp
&nbsp
&nbsp
&nbsp
&nbsp
&nbsp
october 2024
mon
tue
wed
thr
fri
sat
sun
&nbsp
1
2
3
4
5
6
7
8
9
10
11
12
13
14
15
16
17
18
19
20
21
22
23
24
25
26
27
28
29
30
31
&nbsp
&nbsp
&nbsp
&nbsp
&nbsp
&nbsp
&nbsp
&nbsp
&nbsp
&nbsp
november 2024
mon
tue
wed
thr
fri
sat
sun
&nbsp
&nbsp
&nbsp
&nbsp
1
2
3
4
5
6
7
8
9
10
11
12
13
14
15
16
17
18
19
20
21
22
23
24
25
26
27
28
29
30
&nbsp
&nbsp
&nbsp
&nbsp
&nbsp
&nbsp
&nbsp
&nbsp